Prices per night per hotelapartment for 1 or 2 persons
Weekend
Arrival Friday, Saturday or Sunday € 110
During weekdays
Arrival Monday to Thursday € 95
Prices apply to use by 1 or 2 persons. When there is a 3rd persons staying in the apartment there is an extra charge of  € 20 per night.
Prices include bathrobes, bedding, towels for the bathroom and kitchen, cleaning, water and energy.
Prices include unlimited use of coffee, tea, coffee milk, sugar, herbs, olive oil, vinegar, dishwasher cubes, cleaning devises, toilet paper.
Prices are excluding breakfast. This is optional. For our breakfast filosofy see below.
Prices are excluding tourist tax (€ 1,70 per person per night).
10% discount during  a stay of 5 nights or longer (excluding breakfast)
Minimum stay is 2 nights. During bank holidays or large events a minimum stay of 3 nights. 1 night might be possible during weekdays in off season, after consultation.

From Christmas to New Year and during Easter, school vacations and large events special arrival & departure dates (mostly Monday and Friday) apply.

We want our guest to feel free and to make their own choices in time and place. Therefor we created a breakfast philosofy that goes with this line of thinking.
During Summer months we only offer option 3.
We have 3 breakfast options:
1. No breakfast. So no charge for breakfast. Many of our guests choose this option as we offer coffee, tea, sugar, coffeemilk, cooking devises for free. So the fast growing number of guests that prefer a light breakfast with only some fruit, are accommodated with this option. Pirce: € 0,-
2. Breakfast that is put in the fridge of your apartment the late afternoon. This option offers our guests the possibility to enjoy already some of it during the evening, or to take what is left in the morning and use it during during lunch.  This breakfast option contains: egg, fruit, bread, roll, meat, cheese, tomato, milk, fresh pressed orange juice, seasonal fruit, yoghurt, muesli, honey, chocolate spread, marmelade. Price: € 9,00 per person.
3. Breakfast buffet in the close by restaurant De Smidse. A quite famous location in South Limburg where they offer a breakfast buffet with reagional products. Price: € 12,50 per person.
Having something to celebrate?
Let us know!
We can arrange a Champagne breakfast, or rose petals on the bed, or a poem, or a personalized small water colour painting on the table, wrapped as a gift.
It is possible to order a gift voucher with the text and amount requested.

It is also possible to order a gift voucher as an original water colour painting, with info you want us to display, made by  Anya. The price of this water colour is € 25 (including frame) and national post fee (international transport to be added).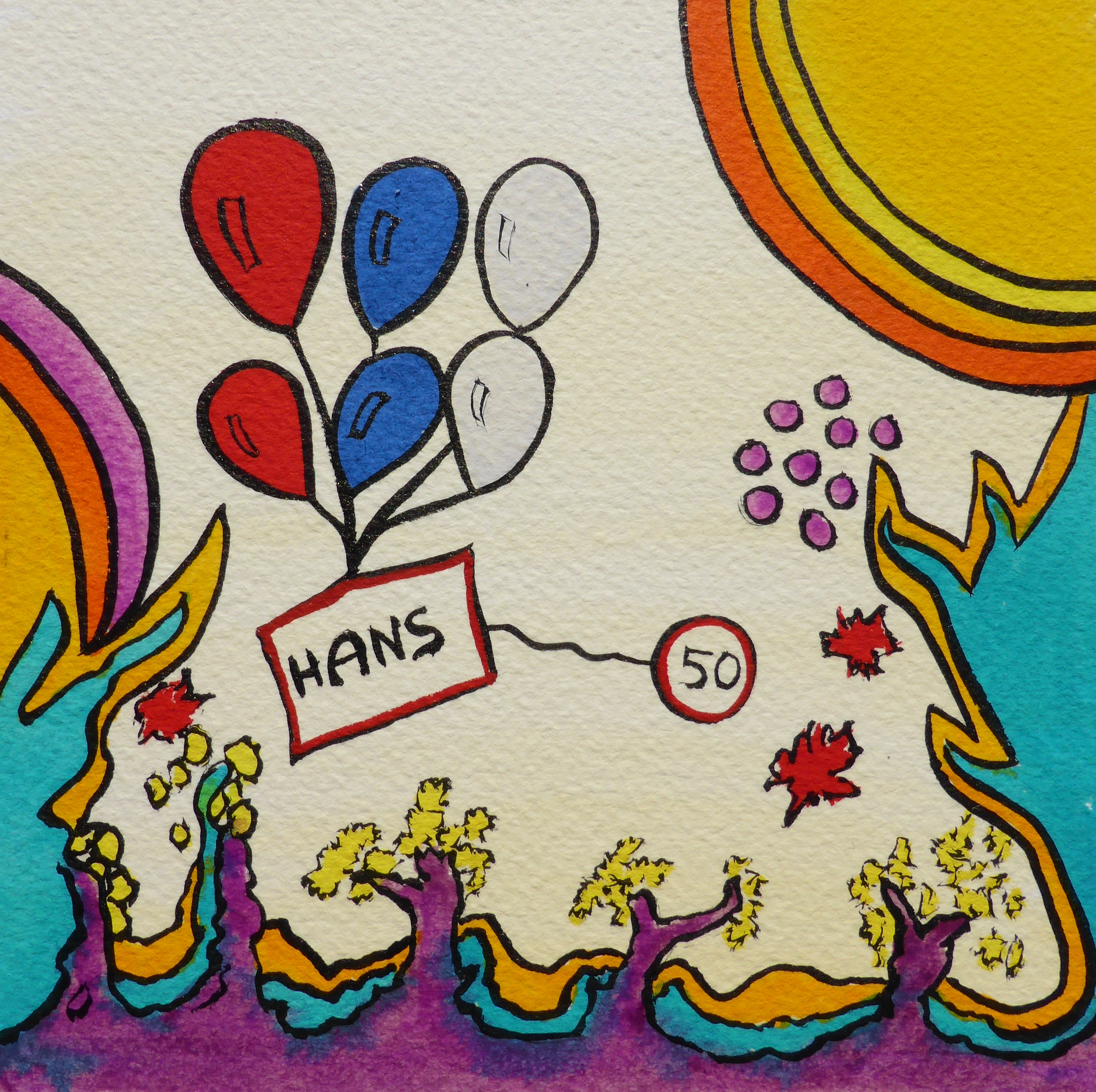 The minimum stay in VIlla White Lily is 2 nights. During weekdays (Monday to Thursday) in low season we occasionally make an exception and accept a one night stay. This applies mostly to (business) guests that are regular customers of Villa White Lily. Please contact us for more details.

On all agreements of Villa White Lily terms and conditions of the Dutch "Uniforme Voorwaarden Horeca (UVH") apply. You can download these terms by clicking on General Terms & Conditions above. They may also be consulted in our Villa and will also be send on request without costs. These UVH apply to al persons or companies that use our services. Maisons White Lily (rental holiday homes in France) offers different Terms & Conditions.
Pin, Ideal, Mastercard, Paypal & cash
Klik hier om uw eigen tekst toe te voegen